"I could really use a mental-health day today," says Jenn Hollm, an account executive for In The Event, as she pulls into the office parking lot, rushes inside to join an early-morning Zoom meeting, and abruptly ends a phone call with a vendor who missed a critical deadline. She works in a demanding client-facing industry. The pandemic prompted her company to approve paid time off for mental wellness, but when she took a mental health day, there was even more stress when she returned to a backlog of urgent demands. Then she tried Vital.
Vital Neuro helps individuals find a desired state of mind anytime, anywhere—to relax, meditate, focus, and optimize performance. The company's scientists and technology innovators have decades of experience in neuroscience research, clinical practice, and psychoacoustics. Vital Neuro packages these items together into a neuro-sensing headphone and smartphone app.
Before starting her first Vital session, Hollm pointed out the biometric watch she uses to monitor her stress level. "It will ping me regularly when I hit 75 to 80," she says. "That's a high-stress reading. What I love about Vital sessions is how easy it is. Within 15 minutes of putting on the headphones, I'll go from a high, deep orange (indicating I need to calm down) to a cool blue (not stressed, almost at rest) in just a few minutes. You just put the headset on, and then 15 minutes later, you're cool, calm, collected, and more productive."
Jenn Hollm
Vital's Utah Roots
Alex Doman, the company's co-founder, has worked in brain training for three generations. He is a serial entrepreneur, and his first company, Advanced Brain Technologies, continues globally today. "My Vital co-founder, Kamran Fallahpour, is a clinical psychologist, neuroscientist, and musician," Doman said. He's also one of the scientists who built the world's largest brainwave electroencephalography database (EEG) used in clinical studies and trials. He is one of the foremost experts on mapping the brain and interpreting that brain data."
"The brain is a complex organ. It controls our thoughts, memories, emotions, touch, motor skills, vision, breathing, temperature, hunger, and every process that regulates our body," explains Dr. Fallahpour from his brain lab in New York City. "This dynamic organ is always changing, going in and out of various states. So, at the start of each Vital session, we measure your brain-state activity at the moment—meeting you where you are—using our brain sensor technology."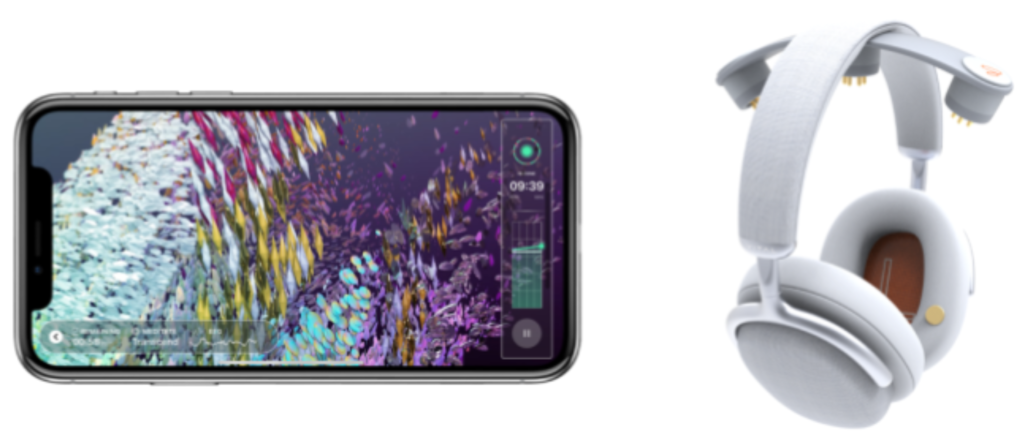 Under the Hood
Once this baseline is complete, brain training begins. "Vital's EEG-guided headphones continuously track your changing brain state and unique brain signature," adds Doman. "Then they adapt their feedback—visual, auditory, music, sounds—to guide your mind into that targeted peak 'Zone' you selected as your brain-training goal in the Vital app. The cumulative effect of regularly repeating this process? Your brain learns how to achieve that state on its own."
The Vital founders compare Vital sessions to exercising. "It's a mental fitness training system, just like going to the gym," said Doman. "But instead of building or shaping muscle, there is an actual physiological change to the brain, creating new neuropathways to shift away from negative triggers and develop healthy thought patterns," adds Dr. Fallahpour.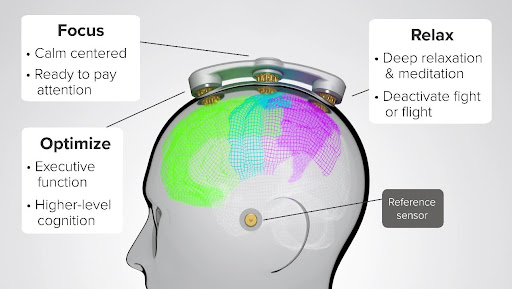 Vital Future
As a neurotech start-up, Vital already has an impact. "We're focused on partnerships with enterprise companies, healthcare organizations, the military, and veterans' groups. Our first pilot, with the executive team of a Fortune 100 company, surpassed all pre-defined success metrics and expectations. Reduced stress and increased feelings of calm and being centered were among the key benefits mentioned," said Vital CEO John Golden.
"We want to make brain health easy," he added. "Everyone knows the importance of eating better, exercising, oral health, and getting proper sleep. But most of us don't take care of the brain. Our brains are always on and fighting to function in an overstimulated society. Vital addresses mental health and brain function, without stigma."