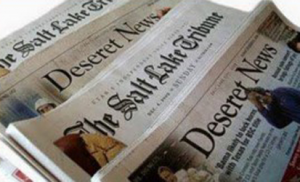 Reliable broadband service is increasingly becoming a critical tool to access information in the State of Utah.  As of February 29, 2016, paper copies of Utah's two largest daily newspapers will no longer be delivered to the rural areas in Kane, Grand, and San Juan Counties.  Instead, subscribers of Deseret News and the Salt Lake Tribune have been asked to switch to digital subscription, or e-edition, a service which relies on Internet accessibility.
The decision to switch to digital subscription will impact approximately 3,376 readers who currently receive printed copies of the newspapers.  Utah Media Group, who manages circulation for both papers, calls the move a cost-cutting measure needed to adapt to lost revenues felt by the whole newspaper industry.
Thirteen other counties will need to switch to e-editions Monday through Thursday, but will still get printed copies of the newspapers delivered Friday-Sunday.  Counties affected by the partial scale back include Beaver, Daggett, Duchesne, Emery, Garfield, Iron, Millar, Piute, Sanpete, Sevier, Uintah, Washington and Wayne.
This local example is relevant to discussions of what the digital divide means in an ever-increasing technology dependent society.   While access to reliable local and national news could serve as an incentive for broadband adoption, we could also see a widening in the "participatory" gap for rural communities.  A community that struggles to access information might be less inclined to engage in local government and community life.   Such participation is important for improving broadband services, as communities must actively work with local government and local providers to find solutions for broadband coverage and expansion.
Over the past several years, the Utah Broadband Outreach Center has been working with providers in rural areas to map infrastructure and assist providers and communities in hard to serve areas. The outreach center has seen major infrastructure upgrades throughout rural Utah which will be increasingly important as these essential services move to an exclusively online format.
Visit the Utah Broadband Residential Map for information on residential broadband availability and locate.utah.gov for commercial broadband availability to see what services are available in your area.