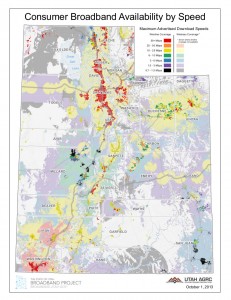 In preparation for the Fall 2013 Data Submission to the Federal Communications Commission (FCC) and the National Telecommunications and Information Administration (NTIA), the Utah Broadband Project worked with 54 broadband providers over the last few months to either update their service areas and information, or confirm the accuracy of what the Project currently has mapped.
All updates are now on the state's interactive map. Other maps illustrating Utah's broadband landscape are available on the other maps and resources page. There is also a link on that page to download the broadband GIS data.
There are 4 new broadband providers partnering on the project:
Farmer's Telephone, that serves Hovenweep National Monument
Neighborhood ISP, a fixed wireless provider in Utah County
Wildfire Broadband, a fixed wireless provider who acquired Skywire and AltaZip and serves southern and central Utah
Charter Communications, who acquired Bresnan Communications and provides cable service in Cedar City
Thirty two broadband providers updated their service area by either expanding their service area and/or increasing maximum advertised speeds. Notable updates include:
Digis acquired Beehive's fixed wireless service in the Tooele and Wendover areas, and Rapidwave.
CentraCom added cable service in four towns in Millard County, and one town in Sevier county.
Manti Telephone and CentraCom added commercial service to their data. Note that commercial areas are not on our interactive broadband map, but are submitted to the NTIA and used for analysis.
AT&T, T-Mobile, and Verizon expanded 4G service.
This data preparation round included an increased emphasis on verification of current broadband mapping data. The Project's mapping team worked closely with seven broadband providers to thoroughly verify service area. This process included using address points to highlight covered areas vs. uncovered areas, the interactive map, and on-site meetings. The Project hopes to continue this increased verification check with these providers, and expand the process to other broadband providers.