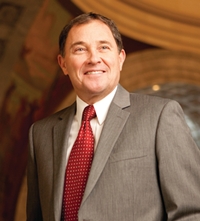 Governor Gary R. Herbert encouraged Utahns to participate in AT&T's Don't Text and Drive Pledge Day on September 19, 2012.
As part of the event, Governor Herbert asked Utahns to put down their cellphones in hopes that accidents linked to distracted driving may be avoided.
"Today we ask all Utahns to set an example for their children and their communities–please do not text and drive. Aside from its unlawfulness, such behavior needlessly puts lives at risk and jeopardizes public safety," said Governor Herbert. "Today is a great reminder to make the pledge and a commitment to not text and drive."
Read more about this initiative on KSL.com or click here to view the Governor's Declaration.