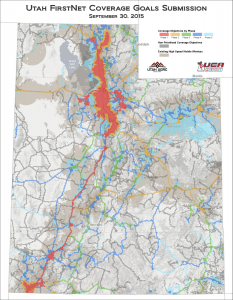 The October 2015 Map of the Month shows Utah's FirstNet Coverage Goals for the Nationwide Public Safety Broadband Network (NPSBN).
One of the recommendations of the 2004 9/11 Commission Report was to create a hardened, national data and communications network that would be prioritized for normal, and incident scaled use by emergency responders and public safety.
In response, action by Congress and the FCC laid the groundwork for the National Public Safety Broadband Network (NPSBN) by authorizing and securing authority and funding for the federal-level FirstNet Board. FirstNet, through a National Telecommunications and Information Administration (NTIA) grant program, has tasked states to begin planning for the NPSBN in their states by:
performing outreach to state and local emergency responders
establishing state-level governance and coordination
collecting and summarizing by organization, users, uses, costs, and geographic distribution of mobile data and communications
drafting a map of state-level coverage objectives and buildout phasing to inform a national RFP for NPSBN service delivery
In Utah, the grantee for these FirstNet-related tasks is the Utah Communications Authority (UCA), an independent state agency that operates the statewide public safety land mobile radio system and microwave network, and administers the state 911 program.
AGRC was tasked by UCA to apply relevant map layers within the State Geographic Information Database (SGID) to improve a baseline coverage objective map initially generated by FirstNet using several national map datasets. The resulting draft coverage objectives and phased buildout for the terrestrial (tower-based) portion of the NBPSN, was informed, primarily by these SGID map layers:
Statewide address points and census block population density (trimmed to developed areas)
Statewide transportation infrastructure: airports, road and highways, together with UDOT's modeled traffic volume map layer
Statewide 911 call for service points* (mobile and landline calls)
Critical infrastructure locations: law enforcement, fire stations, health care facilities, industrial sites, schools, dams
Concentrated recreation and tourism sites
Existing 4G/LTE grade mobile broadband service
The initial baseline coverage and SGID map inputs are shown in more detail in this powerpoint presentation.
Map Notes. Phase 1 of the proposed buildout extends the baseline coverage to include I-15 from Tremonton to St. George with a connection to Logan, as well as the Wasatch Front and Back metro and recreation areas. Phase 2 picks up the remainder of the freeways and highest volume highways and communities along the way, including an area of I-70 currently unserved by mobile voice or broadband. Phase 3 includes every County Seat and their respective routes to the nearest major metro area. And Phase 4 and 5 pick up the remaining populated and industrial areas.
Keep in mind that the nature of wireless communications means that larger areas will likely be served in the process of meeting each phase of the coverage objectives. Also, FirstNet plans to include services in the most remote areas and yet-to-be-built areas, using non-terrestrial technologies (satellite and, in the case of incidents like wildfires or rescues, mobile "deploy-ables").
Whats Next? In the coming months Utah's draft coverage objective map and build phase maps will be refined in consultation with FirstNet and through feedback gathered by UCA from Utah's public safety community. These refinements are expected to be included in Utah's state-specific FirstNet plan that will be presented to the Governor's Office for approval in 2017.