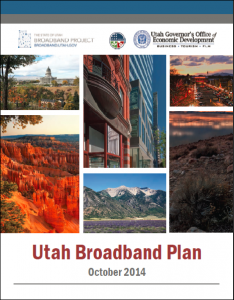 The Utah Broadband Project has released the Utah Broadband Plan, which details strategies and key initiatives to help increase broadband deployment, adoption and connectivity throughout the State of Utah.
"In upcoming years, broadband access will become increasingly more important," said Kelleigh Cole, manager of the Utah Broadband Project. "This plan outlines strategic goals and initiatives to help Utah continue to be a nationwide leader in broadband deployment and adoption, and most importantly drive economic development."
The plan highlights nine strategies to strengthen Utah's economy through broadband development. It focuses on using broadband technologies to support economic development, education, transportation, public safety and other key sectors by teaching best practices to local governments and better connecting rural Utah to the global economy.
Specifically, these initiatives include developing the nation's first commercial broadband map, working with partners to connect Utah's remaining schools and libraries to broadband networks, encouraging broadband deployment best practices, teaching urban and rural communities businesses strategies to leverage broadband deployment and continuing strategic partnerships, particularly the Utah Broadband Advisory Council.
"Utah is already a leader in economic growth because of its commitment to broadband," said Val Hale, executive director of the Governor's Office of Economic Development. "As the economy continues to shift online, broadband must continue to be a priority to maintain our economic growth and preserve our recognition as one of the best states for business and careers."
The Utah Broadband Plan is the culmination of a five-year process which included the development of seven regional broadband teams, analysis on broadband adoption trends and soliciting the feedback of stakeholders across Utah. The Utah Broadband Project will be working with the Governor's Office of Economic Development, the Utah Broadband Advisory Council and other key stakeholders to determine the appropriate implementation process for the plan.