The Governor's Office of Economic Development (GOED), Governor's Office of Energy Development (OED), World Trade Center Utah, and Salt Lake Chamber, presented Gov. Gary R. Herbert's Utah Economic & Energy Summit on Monday, Oct. 26, 2020, at The Grand America Hotel.
The 2020 Utah Economic & Energy Summit was a virtual-only event where only main stage speakers, breakout presenters, award recipients, and limited staff were present at The Grand America Hotel for the live broadcast.
"This has been a terrific Summit, and we have truly learned what makes Utah unique and sets us apart as one of the top states for business," said Val Hale, GOED's executive director. "With last-minute changes to hold the entire Summit virtually, our team and partners were able to pull it off, and we'd like to thank all those involved who made the Summit safe and successful."
The Utah Economic & Energy Summit is the state's premier event for community leaders, executives and decision-makers. The Summit provides an ideal venue to gather tools for professional and personal success. It delivers exclusive insights on Utah's accomplishments. It provides insights on how professionals can get involved and contribute to one of the nation's most resource-rich states and best-performing economies.
Attendance this year was different, as it was a virtual-only event. Online participants had access to all main stage and breakout session content, and it will be available to participants on the Summit website through the end of the year.
Val Hale welcomed the online viewers, which totaled more than 500 to the morning plenary session. Derek Miller, president and CEO of the Salt Lake Chamber, then took the stage to acknowledge Utah's swift response to COVID-19-related economic challenges before introducing Karen Duffin and Robert Smith, two NPR Planet Money hosts with Utah ties.
Marking 80 years as an important asset for the state, Commander of 75th Air Base Wing, Hill Air Force Base Colonel Jenise M. Carroll then accepted an award on behalf of Hill Air Force Base. The first half of the morning plenary session also featured Greg Manuel, vice president and general manager for Northrop Grumman Space Systems, and Gary Hoogeveen, president and CEO of Rocky Mountain Power.
As is tradition, Natalie Gochnour, director of Kem C. Gardner Policy Institute at the University of Utah, delivered a Utah Economic Report. Each year, she presents 'Utah Economist' magazine covers visually demonstrating the state's top economic stories over the last year. 
President and CEO of WTC Utah Miles Hansen provided the audience with a global trends update, noting that "we can't talk about Utah's economy without placing it in a global context. In a world that is becoming increasingly chaotic, what we do here in Utah matters." Hansen then keyed up an interview between himself and Dr. Richard Haass, president of the Council on Foreign Relations. Haass shared his thoughts on opportunities for the United States to provide global leadership as it responds to various challenges while also stressing individuals' importance.
Scott Miller, executive vice president of thought leadership for FranklinCovey, concluded the morning plenary sessions with his keynote speech "Management Mess to Leadership Success," which, among other points, highlighted the difference between being an efficient and an effective leader.
During lunch, GOED presented its annual awards: Utah Businessperson of the Year, David Lang, Goldman Sachs; Utah Business of the Year, Intermountain Electronics; Utah International Business of the Year, Savage Services; and the Governor's Science Medal for Lifetime Achievement, Dinesh C. Patel, Ph.D. The GOED awards were followed by the Energy Pioneer awards from OED: Laura Nelson-Walje, Franz Kolb, Rick Allis, Irene Hansen, and Raymond A. Levey.
During the afternoon plenary, there were energy-focused addresses from Judd Cook at Dominion Energy, Paul Browning at Mitsubishi Power Americas, and Georgios Papadimitriou at Enel. For both fossil fuels and renewable energy, Utah's attracting some of the energy sector's biggest names.
The afternoon session also highlighted the United States-Mexico-Canada-Agreement (USMCA). It began with a message from Canadian Ambassador, Kirsten Hillman, and then a discussion between Ambassador of Mexico to the United States, Martha Bárcena; Canadian Consul General in the U.S., Sylvain Fabi; Lt. Gov. Spencer Cox; and was moderated by World Trade Center Utah board member, Joseph Brubaker. "The USMCA will make North America more competitive and stronger," Fabi said. And, Lt. Gov. Cox added, "This is an excellent time for Utahns. And, we can work together. It's in our DNA. We can be successful with this agreement."
The USMCA discussion was followed by a video message from Gov. Herbert. After eleven years in office, Gov. Herbert shared his final Summit message and highlighted the strength of Utah when the state works together. "We are now in the midst of a storm, but there is no better place to weather that storm than here in Utah," Herbert said.
Lt. Governor Spencer Cox also addressed the Summit audience. He paid tribute to Gov. Herbert's phenomenal work and shared thoughts on what the state can do to keep building on the foundation laid by Gov. Herbert's administration. Joel Peterson, Founder at Peterson Partners, capped-off the afternoon session with a presentation on entrepreneurial leadership.
New this year, the Summit, in partnership with Lassonde Entrepreneur Institute at the University of Utah, included a Startup Pitch competition. The Startup Pitch was sponsored by Clarke Capital Partners and was a speed pitch challenge where entrepreneurs pitched a panel of judges their best ideas. After having a qualification round hosted virtually by Lassonde, three final contestants were selected to present their ideas at the Summit to a panel of experts and audience members to receive cash prizes totaling $10,000.
Startup Pitch judges included Lt. Gov. Spencer Cox, Dean Taylor Randall, Sid Krommenhoek, Tara Spalding, and Cydni Tetro.
The judge's first place went to Parq, with $3,000. Second place and $2,000 went to Uncle Bob's Country Butter. Third place and $1,000 went to Medforums. The people's choice award went to Uncle Bob's Country Butter, with an additional $4,000.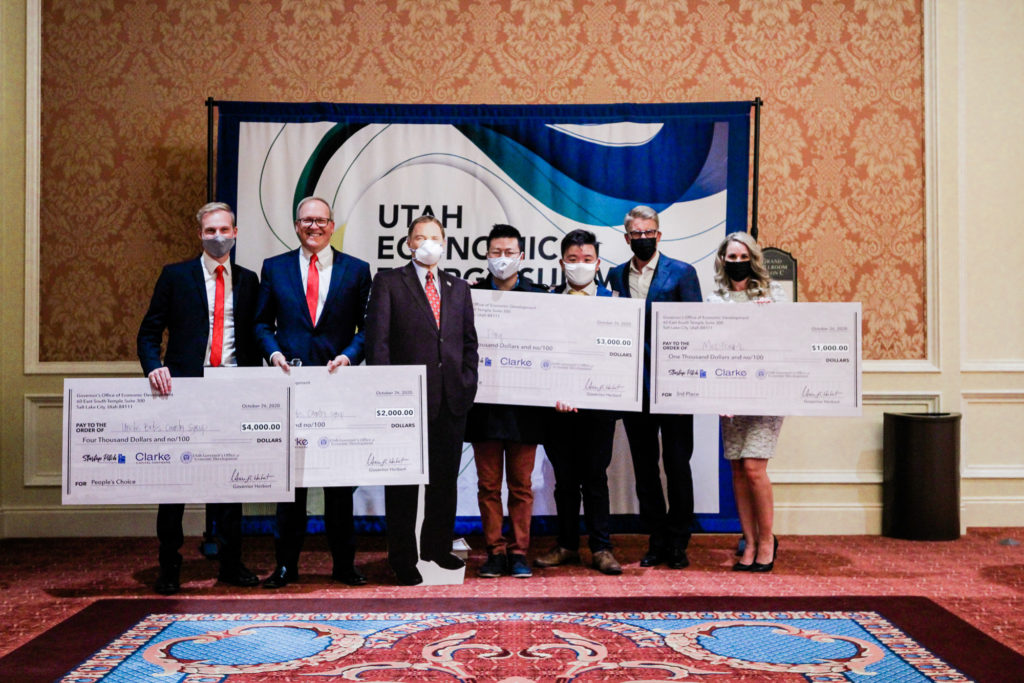 See more information about the winners and Startup Pitch here.
The Summit also included morning and afternoon breakout sessions where attendees had the opportunity to hear from business and community leaders on a variety of topics that included global trade trends in 2020, innovation in the energy technology sector, generational projects that are anchoring Utah's growth, and the business case for supporting mental wellness.
Summit attendees will have access to all main stage and breakout session content on the Summit website through the end of the year. Those who are interested may purchase a post-Summit ticket to view all the recorded content.
More information will be available soon at utaheconomicandenergysummit.com.