Tribal members and government officials gathered to discuss unique challenges tribal members face on reservations in Utah. Two meetings were held, one in October 2018 and most recently in February, where discussions focused on enhancing economic development on reservations.

Specific meeting topics included workforce training, improvements to infrastructure, internet access, safe and clean water and skilled labor shortage.

Facing Challenges
At the first meeting, Gov. Herbert started the conversation by asking how the state can support tribes with economic development challenges. He charged tribal leaders and state agency representatives to start asking tough questions about economic development and unemployment on reservations and work together to solve these issues.

"We realize that in order to reach the governor's goal of creating 25,000 in rural Utah it is critical that the eight tribes located within the Utah borders experience economic success as they work toward creating jobs and growing their economies," says Linda Gillmor, director of the Office of Rural Development for the Utah Governor's Office of Economic Development.

Each of the eight Tribal Nations faces unique challenges specific to their communities. The issues vary among tribes; however, the one common issue is the need for more robust infrastructure. "There is a need to generate funding that allows tribes to build and develop their economy,'" says Shirlee Silversmith, division director for the Utah Division of Indian Affairs.

It is important for tribal youth to venture outside the tribe and understand their importance in creating a well-rounded workforce. Tribal leadership encourages members to get additional education, but they also want students to return to the reservation and contribute their new skills to the community.

Many young people living on the reservation want to stay there. When you look down the road, you want to be able to have jobs for them, adds Silversmith.

At the second meeting, members of the American Indian Alaska Native Tourism Association, AIANTA, gave a presentation on how tourism can be an economic development driver for tribes because they offer training, grants and various funding sources. They emphasized how they provide technical assistance to tribes and shared examples of what other tribes have done to promote tourism.

Working on Reservations
Workforce development among tribal members is a top priority for both state and tribal leaders. Helping tribal members become more self-sustaining was an item of discussion at the second meeting brought up by the Utah Department of Workforce Services.

"Workforce development programs offered through the state are available to all tribal members. These programs are offered at employment centers located throughout the state and online through jobs.utah.gov," said Nate McDonald, assistant deputy director for the Department of Workforce Services. "Workforce Services specializes in helping people gain the skills needed and prepare for job opportunities available throughout the state."
Unemployment rates among tribes is a top concern for state officials, and they are working with tribes to help them overcome challenges that hinder economic development.

"There is no one set way to measure unemployment rate for tribes. We pull data from other reliable sources, but the unemployment rate among tribes ranges from six percent to 20 percent," says McDonald.
However, tribal leaders have different unemployment data than the State of Utah that is much higher.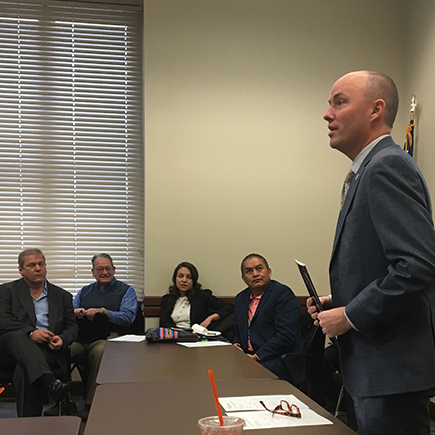 Next Steps
Gov. Herbert laid down a challenge that each tribe present an economic development plan and inform state officials how they can assist them.

Assessments of each tribe are being done to evaluate their individual needs. Once completed, the assessments will provide state leaders with insight on how to better work with each tribe and build-out tailored plans.

The Utah Division of Indian Affairs will continue to reach out to the tribes and build on the ongoing discussions about how tribes can best achieve a higher level of economic prosperity.