Audio
Business Elevated Podcast (Episode 20)
This podcast series features business and government leaders discussing what it's like to live and work in the great state of Utah. This episode includes a conversation between Thomas Wadsworth, business development and corporate incentives manager at GOED and Geoff Atkinson CEO of Huckabuy.
The Business Elevated podcast is also available on Apple Podcasts, Spotify and Stitcher.
Transcript
Introduction
Welcome to the Business Elevated Podcast, where we discuss what it's like to live and work in the great state of Utah. Did you know Utah is frequently ranked the best state for business by Forbes? This podcast is a production of the Utah Governor's Office of Economic Development. Thanks for joining the conversation.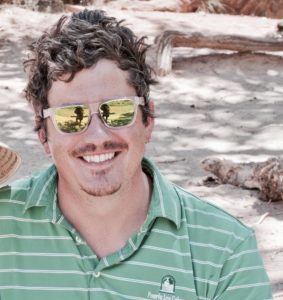 Conversation
Thomas Wadsworth (0:20): I'm Thomas Wadsworth, associate managing director of the Governor's Office of Economic Development, and we have Geoff Atkinson, the CEO of Huckaby, with us here today. Thanks for joining us, Geoff.
Geoff Atkinson (0:30): Thanks, Tom. It's great to be here. I was just walking in the door and noticed all the logos that you don't even realize are in the state of Utah, some of which I'm very familiar with. But yeah, it's great to be here very impressive. They call that logo soup in the business. That's an impressive board you have up there.
Thomas Wadsworth (0:47): It is. It's one of the things we're most proud of here. Geoff, you're a resident of Park City.
Geoff Atkinson (0:53): Yes..
Thomas Wadsworth (0:54): You've been a Utahan your whole life. Give us your backstory, and how you got here today.
Geoff Atkinson (1:00): Yeah, I'm originally from the Boston area. I grew up in a little town, South Shore of Boston, called Norwell, Massachusetts. I became a ski racer, which is my connection to Utah. I went to school in New Hampshire at Dartmouth college. Got to spend a little time on the U.S. ski team. I skied at Dartmouth, and then my connection to Utah was back in 2005. I took a job at Overstock, and so that was really my first job. I had been to Utah to ski, and that was part of the reason I was here. Here's a place where I can have a real job, but still somewhat of a ski bum. And so at about, I don't know, I was probably 22, 23 years old, that's when I first moved to Utah. And I've been up in Park City since 2010.
Thomas Wadsworth (1:44): That's awesome. Coming from Dartmouth, I imagine you were one of, or maybe the only student that took a job out in Salt Lake City, or in Utah, or even on the West Coast.
Geoff Atkinson (1:56): Yes..
Thomas Wadsworth (1:57): How did those conversations go with some of your classmates?
Geoff Atkinson (2:00): Actually, one of my best friends, my best friend really, he grew up in Park City, so there was already a bit of a connection. He actually didn't end up coming back here, but he's here now. You'd be surprised. There's actually quite a bit of Dartmouth alumni that make it west. There's this real outdoor culture to the Dartmouth experience, and so you sort of naturally find Dartmouth alum migrating to the Mountain West.
I was actually intending to move to New Zealand, of all places, and my mom was sort of a tough East Coast mother, and she's saying, "Well, you got to take at least one job interview before you leave this school. We've spent so much money on your education, you really have to do that." And that interview ended up being Overstock. The founder and CEO, or former CEO, is also a Dartmouth alum. The SVP of marketing at the time was a Dartmouth alum. I did have this sort of alumni network connection to Utah, and now, what is it, 15 years later almost, I can't imagine living anywhere else. It's great to be here.
Thomas Wadsworth (3:06): Awesome story. So tell us about Huckaby. Where did the idea come from? What is it? And familiarize us a little bit with the company that way.
Geoff Atkinson (3:16): My role at Overstock has changed pretty dramatically. I started really on the ground floor, but eventually became their senior vice president over marketing. And that was a great ride. We grew that company, and it's still growing today, but we grew that company pretty substantially. I learned a lot about digital marketing and just what works, what doesn't work. One thing in particular really stood out to me, and that was something called search engine optimization. That basically means when you search for something online, you'll see the paid advertisements at the top, and then you'll see what are called organic search results. There are ways in technology, and things that you have to do to try to capture those links. Overstock did a really great job at that. We went from a really small channel to a channel of like $300 million.
I recognized a gap in this very sort of funky industry of SEO. a technical gap. How a website actually talks to a search engine. You think about any kind of website, it's always made for humans, but I argue one of the most important is actually this little Google search bot. The user experience is typically pretty rough, and Huckaby is designed to help that technical conversation between a search engine and a website. In Utah, you take MasterControl, big software company, or Pluralsight, who we're lucky enough to have as a customer. We help translate their website so that Google understands it better. More visitors and sales, and so on and so forth, that these customers get.
Thomas Wadsworth (4:57): Cool. Is it enterprise software companies, or who is your typical customer?
Geoff Atkinson (5:01): Almost everybody wants more organic search traffic, so we have a very wide variety of customers. I would say our focus is somewhat on enterprise software, which is lucky. Probably a lot of that, too, is just being in Utah, and there's a lot of software companies here. But we help e-commerce, we help travel. We help almost every industry you can think of, medical, universities, just organizations, nonprofits, organizations that want more exposure in their content. They want their information to get more eyeballs on them,which is a pretty big pool. That's who we can help.
Thomas Wadsworth (5:43): Great. Tell us a little bit about your experience being an entrepreneur in Utah, and maybe even Park City specifically working at Overstock. I'm sure you had some great connections into the business community. Tell us what that experience was like going from a fairly large corporation, to starting this thing out on your own.
Geoff Atkinson (6:03): It's a lot different having 500 people working for you ,and having zero. Utah's a great place for business, first off. Park City is a bit different. Park City's economy is completely driven by travel and people vacationing and that sort of thing. Whereas, sort of this belt from the I-15 corridor from Salt Lake down to Lehi and Provo, they call that Silicon Slopes. You could get out of your car in Lehi and hit an eight iron to 10 software companies that are extremely successful.
We're isolated from that in Park City. Park City does have some big businesses. Skullcandy is out in Kimball Junction, Backcountry.com. We're actually in Old Town, of all places, and we're very much isolated from the normal sort of Lehi tech scene. I think it's actually been a favorite, sort of a bonus for us, because we don't get distracted by the company next door that just raised $10 million and everybody's asking, "Why aren't we doing that?" We focus on the business, and what really matters in driving our key metrics. We built quite a nice early-stage software company as a result of that focus. We want to be sort of that first Park City software success story. You hear a lot of them from here to Provo, but in that Park City area, it is not known yet for generating software companies, and we're kind of pioneering that. So that's exciting.
Thomas Wadsworth (7:42): Yeah, that is exciting. With that, have you been able to find the right talent, the right employees, the resources there? Would you recommend that to other entrepreneurs who are looking to start a business?
Geoff Atkinson (7:56): I'd say the skillset in Utah is surprisingly strong. A company's culture always comes from the CEO, and so me being from the East Coast, I think we attract a little bit different type of employee than your startup in Lehi or Provo. Transplants often are gravitated to us. But, yeah, there's really a really strong talent in terms of the workforce here. I'm also impressed with just how fast, as code camps and stuff started evolving, just how quickly a workforce can learn a brand new industry. It can have a lot of eligible people that are qualified to work as software developers.
It has been good. I think it'll be interesting as we get bigger. We're at about 15 people right now, and so everybody knows each other's name. When you crack that 30 to 50 employees, some of those cultural things can kind of get away from you. That's really important for us to maintain our values, and what we're looking for in terms of employees. But so far, so good. We love to be in Utah.
Thomas Wadsworth (9:11): Very cool. As you interact with your East Coast network, I'm sure you have a bunch of people asking you questions about what you're doing out here. When you talk to people maybe their questions for you are "Why are you doing business out there?" But what is your sales pitch to them?
Geoff Atkinson (9:30): As most people talk to me about being based in Utah, the very first thing that I'll hear is, "Park City. Wow, that's a great place to live." And I'll say, "Yeah, you're right. It is." And then they'll say, "Well, how did you end up there?" I basically said, "Well, you have to start your own company."
Thomas Wadsworth (9:48): Yeah.
Geoff Atkinson (9:48): I feel incredibly blessed personally to live in Park City, Utah. Here's a place where thousands upon thousands of people save money every year to rent a condo for a week and ski, and spend thousands of dollars. I just walk out my door and I'm there.
Our office is actually within walking distance of my house. I was walking to work and this couple had stopped on the sidewalk to take a photograph of Main Street. I was trying to rush to work and I got a little grumpy, and then I sat back and said, "You really can't get mad at someone stopping to take a picture of your commute to work."
Thomas Wadsworth (10:30): For sure. I wonder if you're like some of the other Park City companies with the perks that you give. Ski days and powder days.
Geoff Atkinson (10:40): You pretty much have to be. If you're based in Park City, and you don't let people go skiing when there's a huge snowstorm, you'll probably have a revolt on your hands. We work hard. It's a cliche, but we work hard and we play hard. When there are those great days, of course, people get their work in after-hours or make it up on the weekends. We're very much open to that, and I think if you weren't that way, and based in Park City, you'd probably have some problems attracting talent.
Thomas Wadsworth (11:09): Geoff, can you tell us about your experience with the entrepreneurial network here in Utah? The experience you had starting your business, if you would recommend it to others, and how you would recommend them going about starting their own business in Utah?
Geoff Atkinson (11:23): There is a very strong network. It's a close-knit network. It's a relatively successful network, meaning a lot of companies are doing really well. In terms of why Utah, there is a great talent pool. The network is growing. The word is out about Utah being a really great place for software companies, and so you're seeing a lot of investment. Not just within the state with great venture capital here in Utah, but also outside the state. Money is starting to flow into these companies, and really significant money.
Being in a hot spot like that, where generally the cost of living is not your Silicon Valley or your New York City. There are a lot of good reasons to be based here, because it is a very entrepreneurial state. It's just the nature of it, and we need to support those young companies, and help them at least get their shot to be successful.
There is a very strong entrepreneurship community and culture here, and let's keep that rolling and support them in every way we can. They're generating jobs among a population that's growing very quickly, and those jobs are going to be necessary. I think it's doing really well, and we just got to keep encouraging it along the way.
Thomas Wadsworth (13:02): Geoff, well, thanks for making time for us today, taking time out of your busy schedule and making the trip down from Park City. We really appreciate it. Anything you'd like our listeners to know about Huckaby?
Geoff Atkinson (13:14): First off, thank you so much for having me. Just knowing that this office exists, and working on the economic growth of Utah makes me sleep better. If your listeners want to learn more go to https://huckabuy.com/. If you fill out a Contact Us form and refer to this podcast, I'll make sure that I actually get in touch with you personally. Thank you so much for having me and, yeah, I really appreciate it.
Thomas Wadsworth (13:46): Great. Thanks, Geoff.
Conclusion
Thanks for listening to the Business Elevated podcast, a production of the Utah Governor's Office of Economic Development. Listen to other episodes where you get your podcasts or at business.utah.gov.