Locals and foodies love Red Iguana, and it's a must-do eating experience for tourists.
Restaurateurs Ramon and Maria Cardenas opened the first Red Iguana restaurant on North Temple on the west side of Salt Lake City in 1985. Although the original restaurant accommodated only 18 diners, it immediately gained an enthusiastic following, with lines frequently extending onto the sidewalk. Fast forward 37 years, their daughter Lucy Cardenas and husband Bill Coker purchased the restaurant from her father and have since opened Red Iguana 2 on South Temple in Salt Lake City and Taste of Red Iguana at the City Creek Center food court.

"When we purchased the Red Iguana business from Lucy's father in 2005, our highest priority was to protect the Red Iguana legacy and continue its almost institutional identity in the community," said Bill Coker. "Today, 17 years later, that's still our highest priority — serving and supporting the community that has supported the Cardenas family for generations."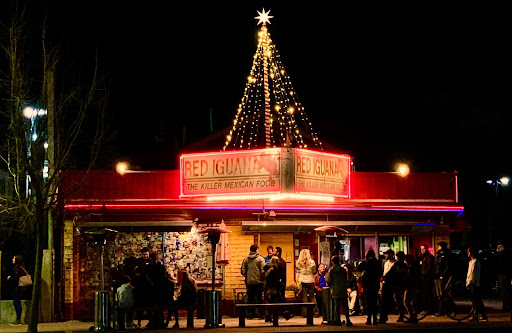 Persevering Through COVID-19
Before the coronavirus pandemic, all three Red Iguana restaurants flourished, steadily growing to serve 750,000 customers a year. As a result of the worldwide pandemic, Cardenas and Coker were forced to adapt to a new business model. Through hard times and countless sleepless nights, they survived thanks to the patronage and support of community members.
Due to its small size and social distancing protocols, the original Red Iguana immediately closed when indoor dining stopped on March 17, 2020, "We immediately scrambled to re-invent our business to have any income at all," Coker noted. Instead, the duo focused on Red Iguana 2, which was larger and safer to operate for staff, and curbside pickup orders, which were our only income. They repositioned three point-of-sale computers and utilized staff to receive inbound phone orders. At one point, the restaurant received 55,000 calls for curbside orders in less than three months. "We numbered all the parking stalls, positioned a gatekeeper on a walkie-talkie catching cars, radioed to team members inside the order and parking stall number," Coker added. "We converted a dining room to a staging area with dining room servers running the food out to the cars."
Cardenas and Coker didn't know on March 17, 2020, when the dining rooms were ordered to close, when they would open again, if ever. "We shifted into survival mode, and our biggest concern was our 215 employees and their health and welfare without a job. They are our Red Iguana family and the core of our business," Cardenas said. Several employees have been with the restaurant for more than 10 years, some over 20 years. The couple kept as many employees as possible working at reduced wages, furloughed the rest, and promised to rehire and restore full pay as soon as possible. "When we received Small Business Administration (SBA) Cares Act relief funds, we paid them retroactively, brought back furloughed staff, and have worked hard to ensure they all have a living wage."
The Original Red Iguana stayed closed for 111 days and reopened but was restricted to 50% capacity for 249 days. Taste of Red Iguana was closed for 56 days, and Red Iguana 2 was closed for 24 days.
Foodies Take Note
The duo is no stranger to being called out by both local and national media. "In 2008, after The Red Iguana appeared on The Food Network's "Diners, Drive-ins & Dives" program, the restaurant's popularity exploded, and wait times were up to an hour every night," Coker noted.
At the same time, Salt Lake City revealed plans to build a TRAX train line down North Temple extending out to the airport, a 3 1/2 year-long construction project. The idea for Red Iguana 2, located just two blocks away, was born out of trying to survive those two competing events. City Creek Center followed by asking them to join their food court, so Taste of Red Iguana was opened.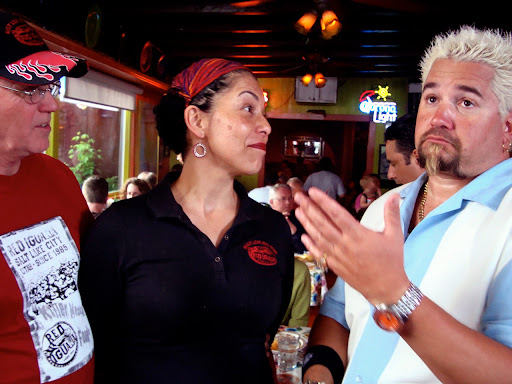 In 2020, Guy Fieri and "Triple-D Nation" returned to The Red Iguana to see how the national recognition "Diners, Drive-ins & Dives" brought to the restaurant had impacted it in the 12 years since the show aired.
"In 2008, we'd only been on the air for two years, and you guys set such a great example for me as a chef and as the host of the show as to what I wanted to see for mom and pop multigenerational restaurants," Fieri said. "There will only be one Red Iguana and 85,000 moles. You were the high-water mark to which I've measured all the other restaurants since then."
Utah Small Business Administration Award
In celebration of National Small Business Week, Cardenas and Coker received the SBA's Utah District Small Business Person of the Year Award for 2022.
"We recognize you and your organization for your business success and community contributions," Marla Trollan, SBA Utah District director, said. "This award is reflective of your leadership and commitment to growing our economy, creating good jobs in our communities, and supporting the next generation of business leaders. We appreciate all your hard work and accomplishments."